Each year, thousands of snowmobile enthusiasts get out their sleds early and start preparing them for a long-awaited adventure. One where they can kick up the snow as they speed over its smooth surface, dipping up and down scenic hills throughout Michigan's Upper Peninsula. At the heart of that trip are 128 miles of superlative snowmobile trails. Connecting you to other trail networks, you can access the entire U.P. from one place — Tahquamenon Country. If you love snowmobiling, or want a true Michigan experience, this is the place for you! We spoke with local snowmobiling and trail grooming experts to help with planning the best snowmobile vacation. Read what we found below!
Start planning your snowmobiling vacation NOW
Snowmobiling season begins Dec. 1, but this is one of our most highly anticipated times of year! If the weather is generous enough, the season may start sooner. Your best bet is to start booking lodging along your route NOW. They fill up fast and months in advance!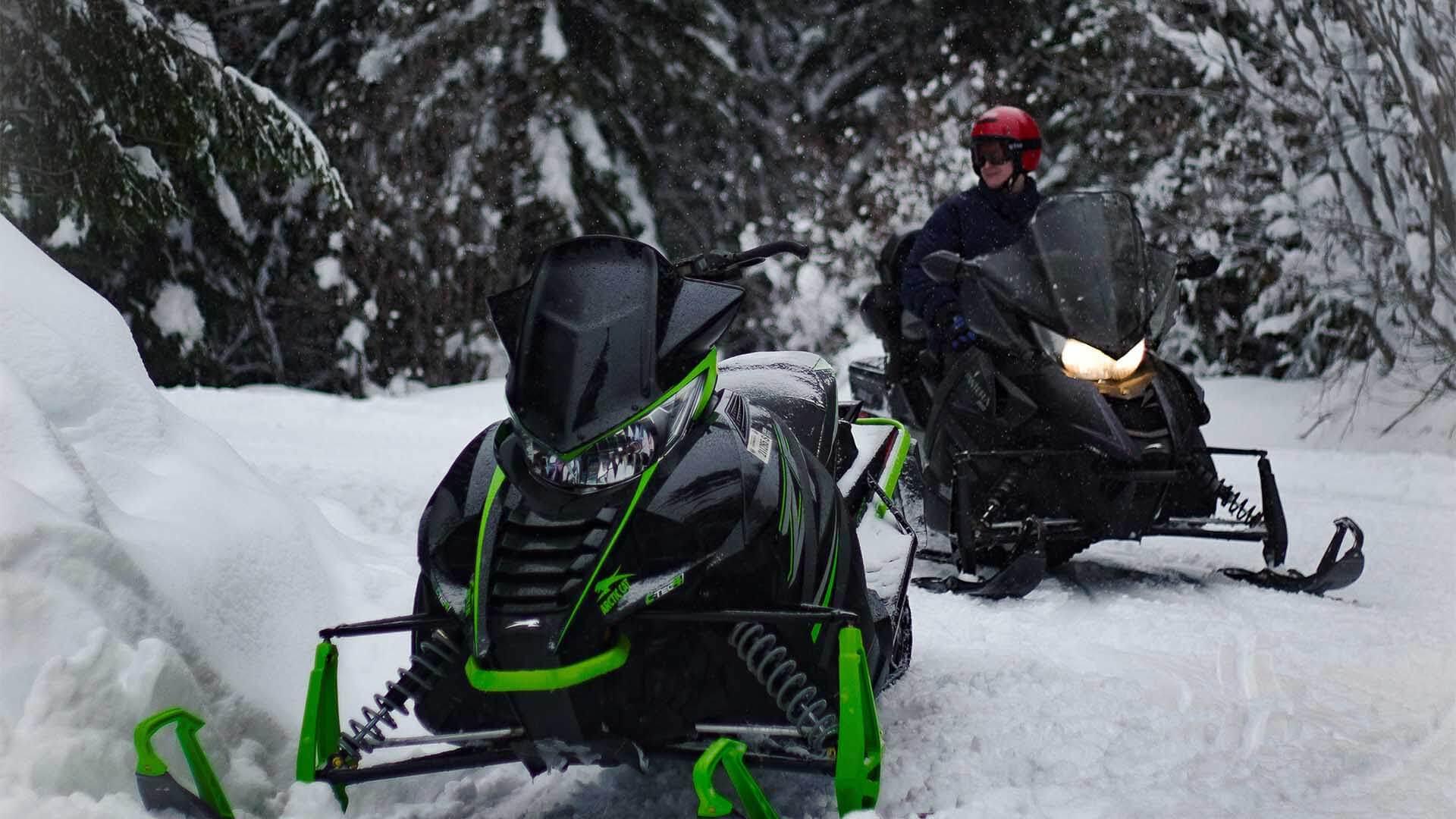 Map your route sooner than later
Upper Peninsula snowmobiling is one of the most exciting winter recreation activities that Tahquamenon Country has to offer. Of course, it's important to know where you're going. Snowmobile trail maps are available for $4 apiece at The Newberry Chamber Office, on the corner of M-123 and M-28 in the little log cabin. The Office is open 10 a.m.-4 p.m. Monday-Friday during the winter season.
A Paradise Area Night Rider (PANR) groomer, Chris Saunders, advises people to verify that your route is all on public property. Especially if you plan to go off-trail riding, you'll run into private property. It's best to avoid that.
When is the best time to go snowmobiling?
Another tip Chris tells people is it's best to come up during the week. Most of the trails are heavily traveled on the weekends.
"I tell people that if they can get off from work on Monday, Tuesday or Wednesday, that's the time to come," he said. "The trails are 100% better with less traffic and smoother because we can keep up easier on grooming. They do get pretty choppy on the weekend otherwise. On Saturday nights, it's not unusual to see 200 to 300 sleds on a six-hour grooming run. That's just on one section of trail, too. With three other sections, you're talking thousands of sleds a weekend. On a Tuesday though? Maybe you'll see 40 sleds on a trail section. The weekends will stay that busy as long as there is snow for it."
When does snowmobile season start and end?
Michigan trails are open from Dec. 1-14 with limited hours due to hunting season. Starting Dec. 15, though, they are fully open through March 31, as long as there is snow for it!
I've never snowmobiled before — why should I give it a try?
Snowmobiling can take you to so many beautiful destinations. Some of those areas may not be accessible during the spring, summer and fall months. Snowmobiling has something to offer every experience level of rider and is a great vacation idea for the whole family.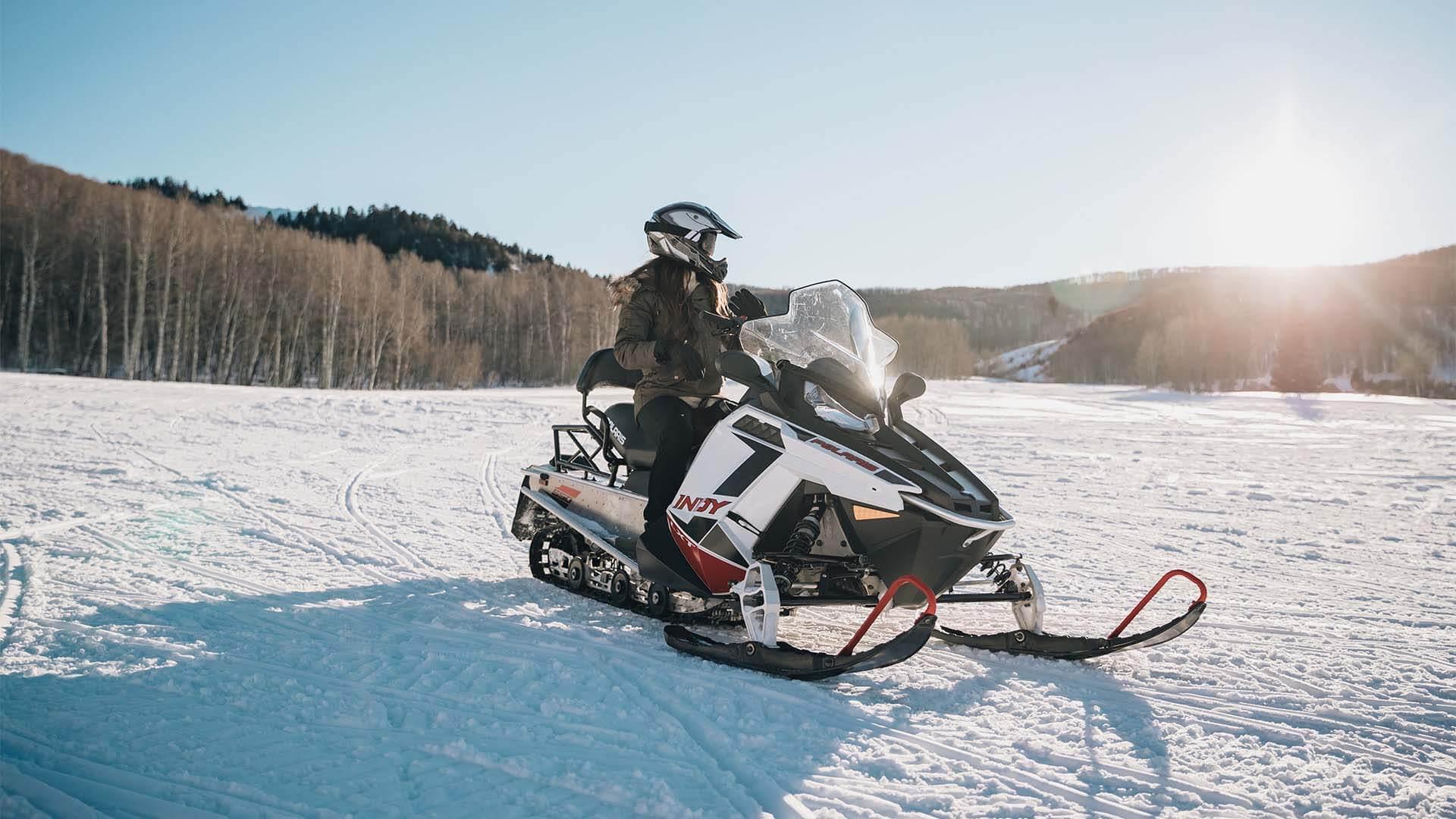 What makes Tahquamenon Country trails so great?
The Tahquamenon Area Snowmobile Association trail system was voted the #5 snowmobiling destination in America's Top 10. Our trail system also ranked #1 in Lake Superior Magazine. If you're interested in renting snowmobiles, several local businesses offer rentals and we recommend you reserve yours ahead of time as well.
"Personally, I think we have the best trails around compared to downstate (in Michigan's Lower Peninsula)," Saunders said. "Our snowmobile trails are so much better. I'm originally from the Muskegon area. The trails up here are 100% better than what was down around there. The amount of snow definitely helps. And our trails are much wider and seem to be smoother."
With an average snowfall of more than 200 inches, the Tahquamenon Area has some of the most breath-taking trails and scenery in the Eastern UP. With destinations such as Tahquamenon Falls, Pictured Rocks National Lakeshore, White Fish Point, Crisp Point Lighthouse and small towns such as Newberry, Curtis, Paradise and Grand Marais, any trail rider will find something for their interests. For those who like more of the off trail experience, we have plenty of areas for a day of powder adventure.
What should first-time snowmobilers know?
Any first-time snowmobiler should travel with others with more experience, never alone. Never ride outside of your comfort zone. Wearing the proper snowmobile gear as well as having a map are a must. Any snowmobiler should plan routes in advance to know mileage, so you don't get stranded due to running out of fuel. Pack water and make sure it's in a place where it won't freeze so you can stay hydrated!
What safety measures should snowmobilers keep in mind?
Always ride with a partner and stay in your comfort zone! Make sure you have the right gear, and always ride to the right. We recommend wearing layers, a snowmobile suit, headgear like a helmet, a facemask, some form of eye protection like goggles or sunglasses, gloves, thick socks and boots. Have a flashlight on hand and a tow strap just in case.
Where can I find trail conditions?
Snowmobiling in Michigan should always involve preparation for extreme weather. Check the forecast as well as the Michigan Snowmobile Trail Report before you venture out each day to ensure a safe trip for you and your group.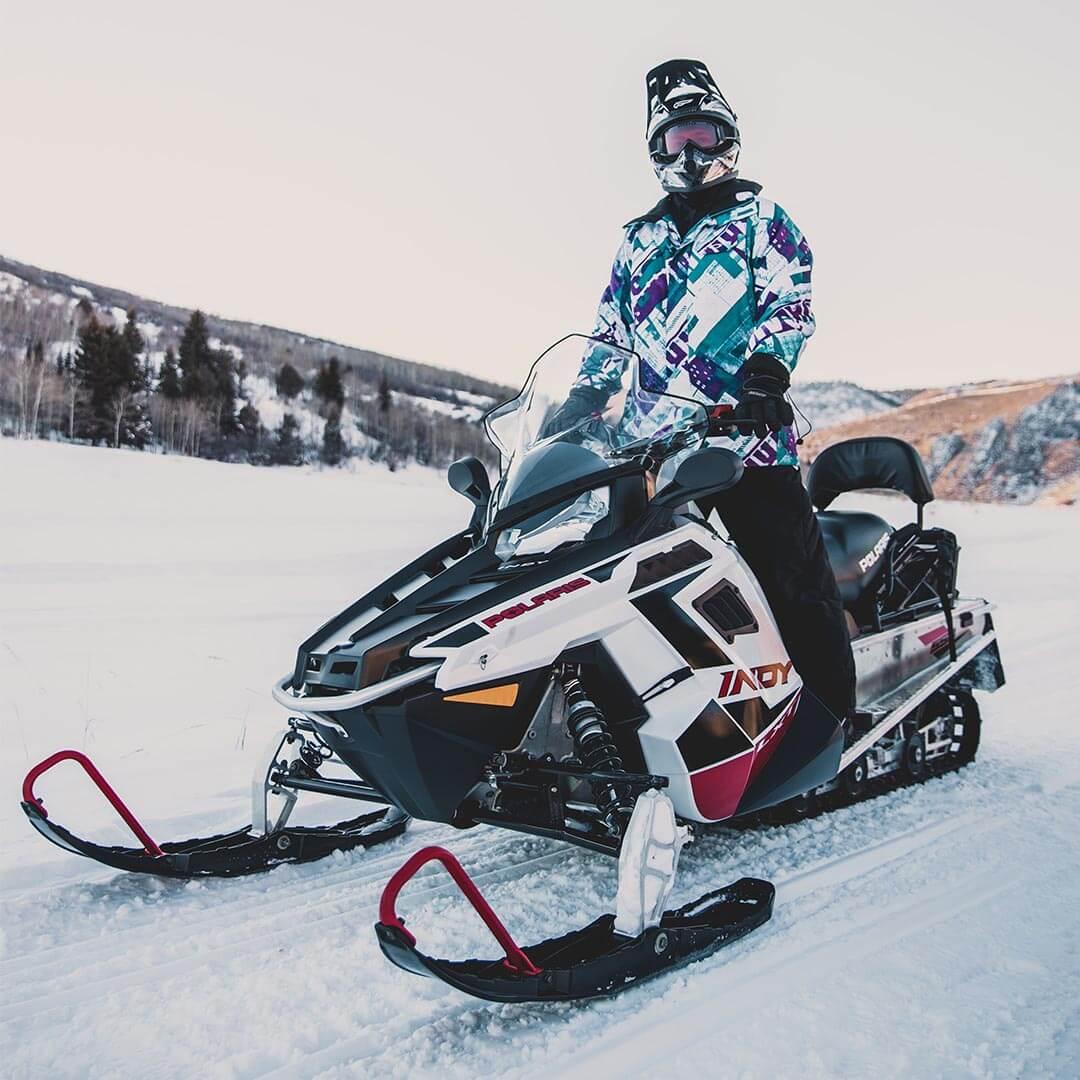 Which Tahquamenon Country trails are most popular?
One of the most popular routes is trail 45 which leads riders directly to the Upper and Lower Tahquamenon Falls. In the winter, these falls freeze almost completely resulting in some amazing ice formations.
Where should I stop on my snowmobile vacation?
The Tahquamenon Country area has lots of great establishments to check out. Timber Charlies, Zellars, Seder's Pizza are just a few in Newberry. The famous Pine Stump Junction Cook Shack off of Trail 9 and The Tahquamenon Falls Brewery off of trail 45 are also hot spots. In Paradise, there is the Wheelhouse Inn, and for barbeque, you can't beat The INN in Paradise. Stop by the Tavern and Lake Superior Brewing Co. in Grand Marais.
Plan your snowmobile trip today!
Are you ready for your best winter adventure yet? Start planning the best snowmobile trip now! Visit our snowmobile page for more information.