Hungry? We certainly understand that in Tahquamenon Country, the home to Paul Bunyon-size lumberjack appetites. Our fresh air and hours of fun do make you crave good food and thirst-quenching drinks. So where can you catch breakfast, lunch or dinner fixed the way you like it, served in a place where you feel you belong? Right here near Tahquamenon Falls — just minutes from your next adventure or good night's sleep.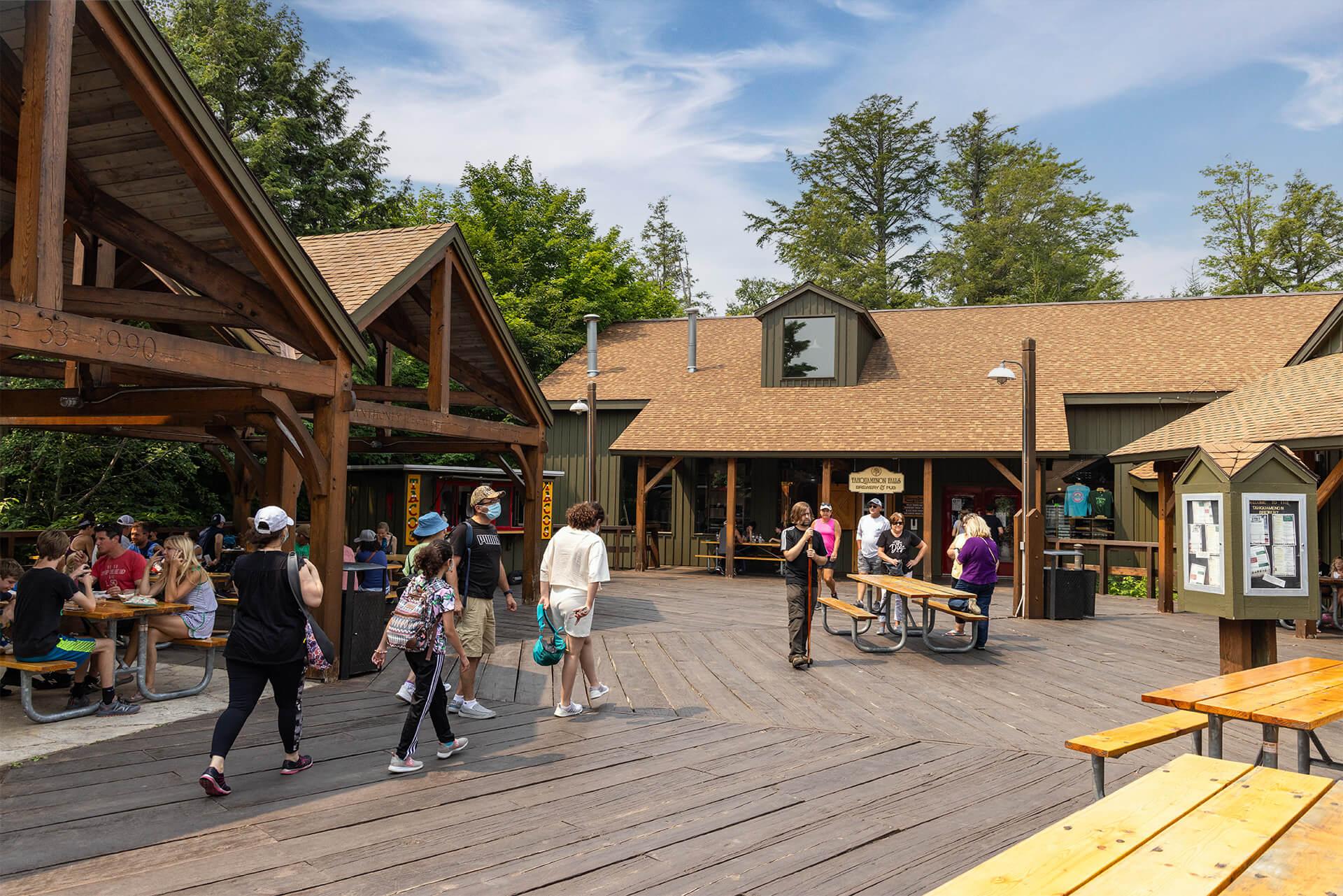 Restaurant in Tahquamenon Falls State Park
Tahquamenon Falls Brewery & Pub
906-492-3300 | Spring, summer & fall | Open daily
Here's your chance to enjoy a refreshing craft micro-brew at the only Michigan brewery located on state land. A rustic respite near Paradise, this pub's menu pairs nicely with its beers. Choose from a large variety of foods from popular Lake Superior whitefish and housemade pasties (pronounced pass-stees) to a smoked fish dip appetizer, salads, sandwiches, pastas, broasted chicken, entrees and daily specials. Your children will find their favorite foods and drinks, too.
Relax by the large fireplace or, in warmer weather, on the Camp 33 deck with its tranquil view of the surrounding woods. Before leaving, visit the Camp 33 Gift Shop — the shelves and racks are a treasure trove of everything from quality apparel to shoes, jewelry, art and souvenirs.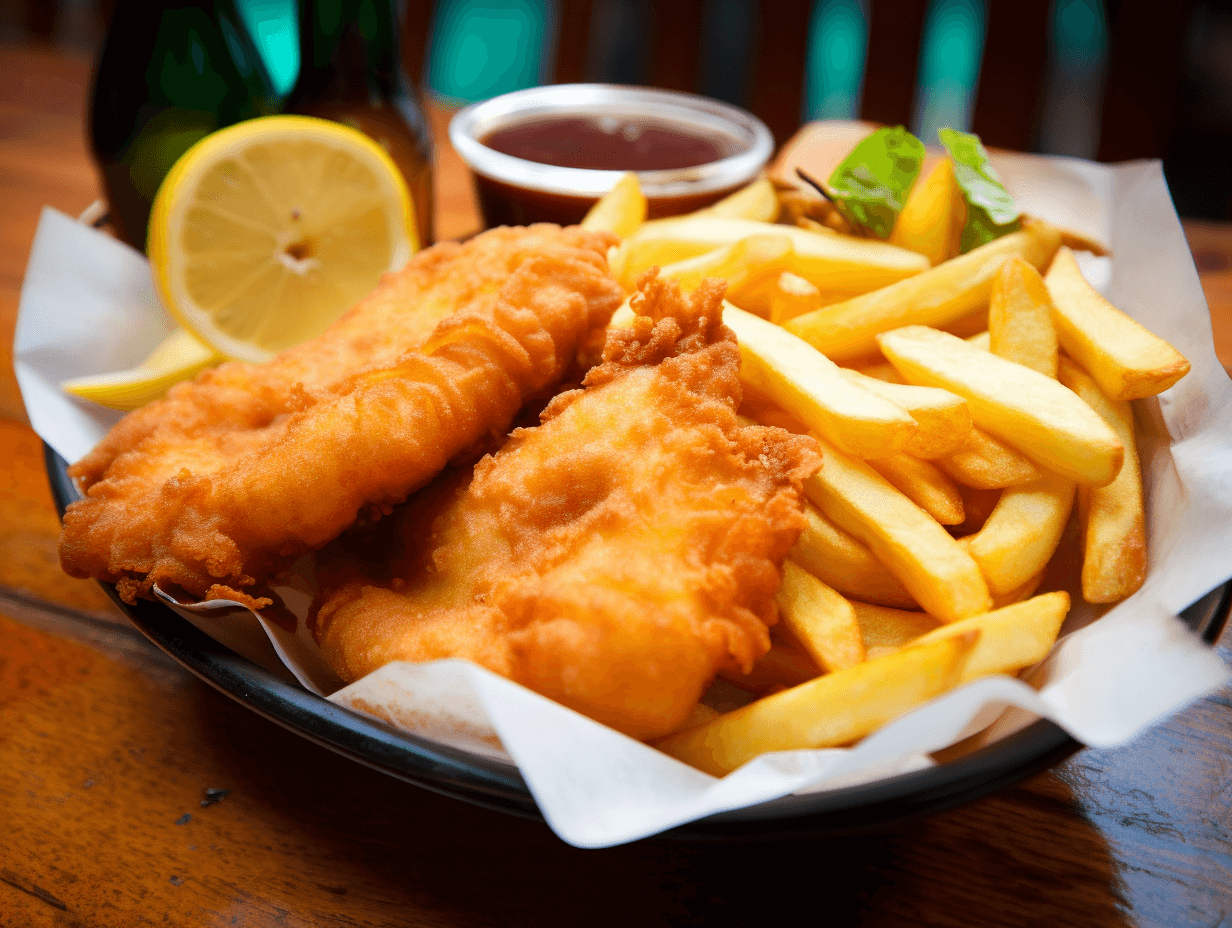 Restaurants near Paradise
Brown Fisheries Fish House
906-492-3901 | Open Tuesday, Wednesday, Friday & Saturday | Cash or check
One of the reasons to pull up a chair at our local restaurants is to do a tasting tour of their Lake Superior whitefish. The Brown Fisheries Fish House catches theirs daily. Try it smoked, deep-fried or in a creamy dip. Shrimp and chicken tenders are options, too.
The Berry Patch Bakery & Restaurant
​​906-492-3330 | Open all year; call ahead to confirm days & times
The Berry Patch is a wonderful combination of an old-fashioned bakery and a homestyle restaurant. Their cinnamon rolls contend for the best in the U.P., but your taste buds won't be disappointed with the muffins, cookies, pies and rolls. All baked goods are great for your picnic or campfire. Breakfast is served all day and their hearty lunch choices include soups, chilis, homemade sandwiches, burgers and pasties. Take time to explore their gift shop, too.
Ebbys
906-291-1268 | Closed Tuesday & Wednesday | Food truck; take out or outside seating
A quick place to pick up tacos, burritos, cookies and more. You will get a dose of UP smiles, too.
Wheelhouse Diner & Goat Locker Saloon
906-492-2000 | Open every day, all year
This is your breakfast, lunch & dinner place to bring the family for food and drinks that please everyone's tastes. Or come chill at the saloon, sipping your favorite libations. Wednesday is Euchre night with food and drink specials. It's a good way to get to know folks around here. Breakfast choices range from pancakes to a burrito with chorizo or biscuits and gravy. Lunch and dinner include gluten-free, vegetarian and meat options. Whatever your choice, you will be energized for your next adventure.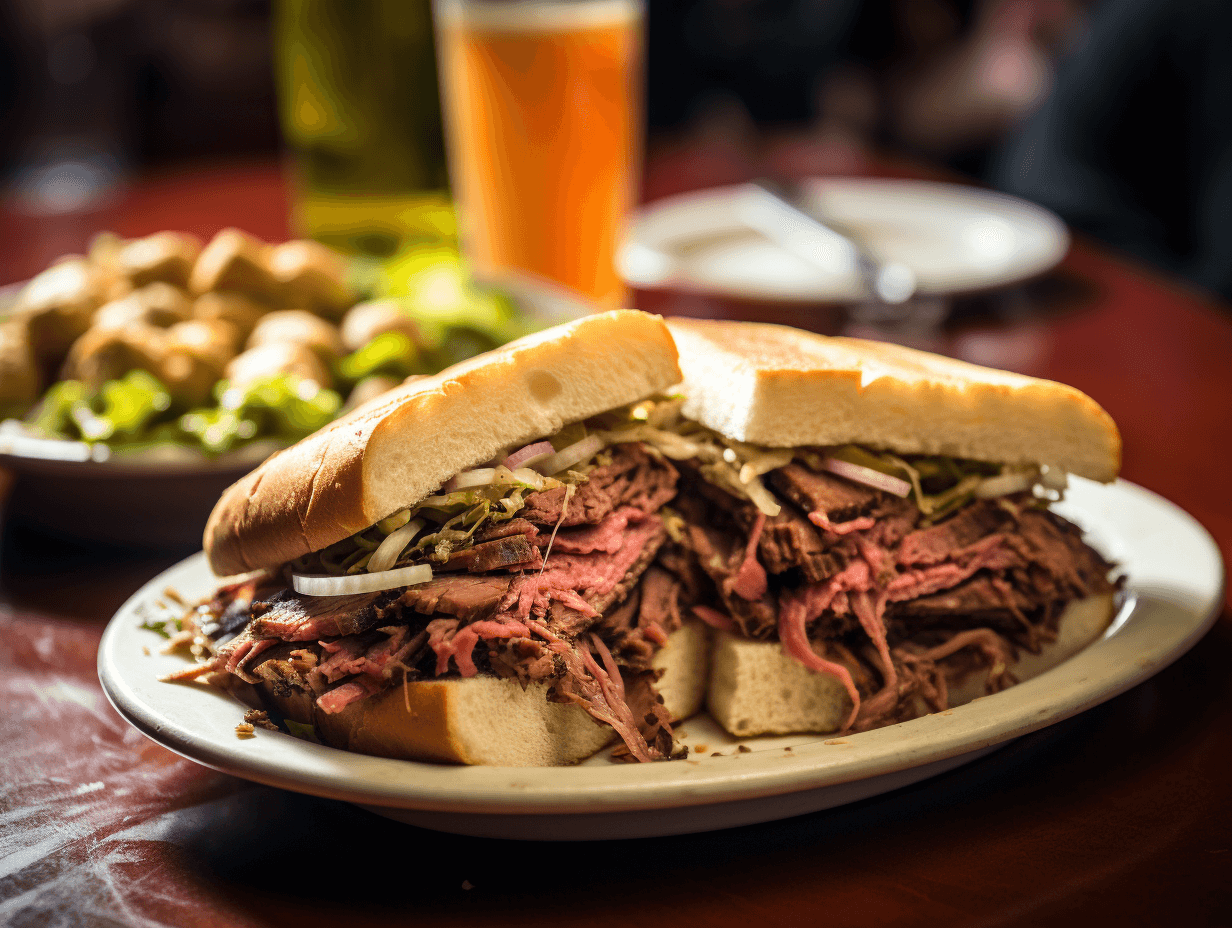 Local restaurants near Newberry
Ice Cream Bandits
906-291-2400 | Seasonal | Walk up and drive through
Stop downtown for summery soft serve and sandwiches.
Johnny's Bar
906-293-9955 | Open daily for dinner | Take out and dine in
Johnny's serves tasty bar food and plenty of drink choices to all adventurers and waterfall visitors to the area. In the winter, there is plenty of snowmobiling parking outside their door.
Joshua James Bar & Grill
906-293-1557 | Open daily | Dine in and take out
This sports bar-themed gathering place loves feeding families, groups and celebrations in its indoor and outdoor seating areas. Unwind with a wide assortment of drinks from the full bar. First-timers are encouraged to try their specialties — 43 Mini Beers, a unique and flavorful Spanish liqueur or their selection of Michigan craft brews. Their "Hall of Fame" burgers draw people in all year round. Join the locals for karaoke, corn hole, pool and singing along to tunes on the digital jukebox.
M-28 Grill & Tavern
906-293-3777 | Open daily | Dine in and take out
This family-friendly eatery is a people-pleaser at breakfast (served all day), lunch and supper. Come multiple times to try all the tempting omelets, griddle choices, salads, burgers, steak, cod, chicken and more. If you are 60-plus years old, you can pick from popular choices on a just-for-you senior menu.
Pine Stump Junction
906-658-3364 | Open daily | Dine in and take out
Go where the locals have pumped gas or filled up on food for 75 years. Pine Stump serves American food, pizza and offers a full bar. On Tuesday evenings, join the fun of Singo Musical Bingo. In winter, this is another Newberry restaurant where you see more snowmobiles than cars and trucks in the parking lot.
The Pizza Place
906-293-5551 | Closed Sunday | Dine in, take out and no-contact delivery
The Pizza Place holds true to its calling — making sssaaa pizza!! Create your own, piling your favorite ingredients and cheese on a garlic butter and sesame crust or go with one of their specialty red or white sauce choices. For a mouth-popping experience, try the roasted pepper and fajita chicken pizza.
Seder's Pizza
906-293-8069 | Tuesday through Saturday | Dine in, take out and delivery
You don't even have to like pizza to have a good time at Seder's Pizza — Newberry's original pizzeria. Choose from pizzas made with handed-down recipes, deli sandwiches, soups and more. Summertime is when the Italian sodas and Italian cream sodas are especially refreshing.
Timber Charlie's Food & Spirit
906-293-3363 | Open daily | Dine in and curbside pickup
Timber Charlie's gets high marks for its shareables, sandwiches, salads, fresh-made soups and sides. This is one place in the U.P. where you can get a chicken and lamb gyros or The Two Hearted sandwich (named after the nearby river) with shaved prime rib on your choice of homemade bread or a hoagie bun.
Wolf Inn Grill & Spirits
906-658-3355 | Open daily | Dine in and take out
Friday Night Fish Frys are a big deal in the U.P. and Wolf Inn is a contender in the race to be best. Throughout the week it offers a full slate of appetizers, handhelds, lighter choices, Wolf Inn favorites and chop house specialties. Come in hungry, leave happily full.
Zellar's Village Inn Restaurant
906-293-5114 | Open daily, all year | Dine in, take out and outdoor seating
Zellar's is a great start to your day, a refreshing mid-day break or a place to unwind and swap adventure stories before calling it a night. The Z's breakfast menu fills a page with a slew of omelets, griddle picks, skillets and eggs the way you like them choices. "The Beast" is their entry into the best cinnamon roll U.P competition — we will just say, you can't see the plate when it's on top of it. Lunch is a choice of handhelds and juicy burgers. People drive hundreds of miles for their tender, moist broasted chicken, thick-and-juicy steaks, lake perch and homestyle spaghetti.