Once Tahquamenon Country's nearly 100 inland lakes and Lake Superior's Emerson Bay become solid, it's time to bore holes through the ice and drop your line. Here's where you can experience the thrill of reeling in some of the tastiest walleye, whitefish, northern pike and panfish anywhere in Michigan.
Below are tips on how to make this one of your best ice-fishing adventures ever — one you will plan to repeat every winter.
Get your Michigan fishing license
Anyone 17 years of age or older must carry a current Michigan fishing license to fish on our state's inland lakes, ponds, streams, rivers and the Great Lakes Superior, Huron, Michigan and Erie. Before you go on the ice, read the Michigan Department of Natural Resources (DNR) Fishing Report and check their ice fishing page for information. There you can download or print the current fishing app or guide that is good from April 1 to March 31 annually.
Fish for FREE on the third weekend of February
Every third weekend of February, Michigan waives all fishing license fees. This applies to Michigan residents and non-residents and is a great time to try the sport or share it with friends and family. All fishing regulations still apply.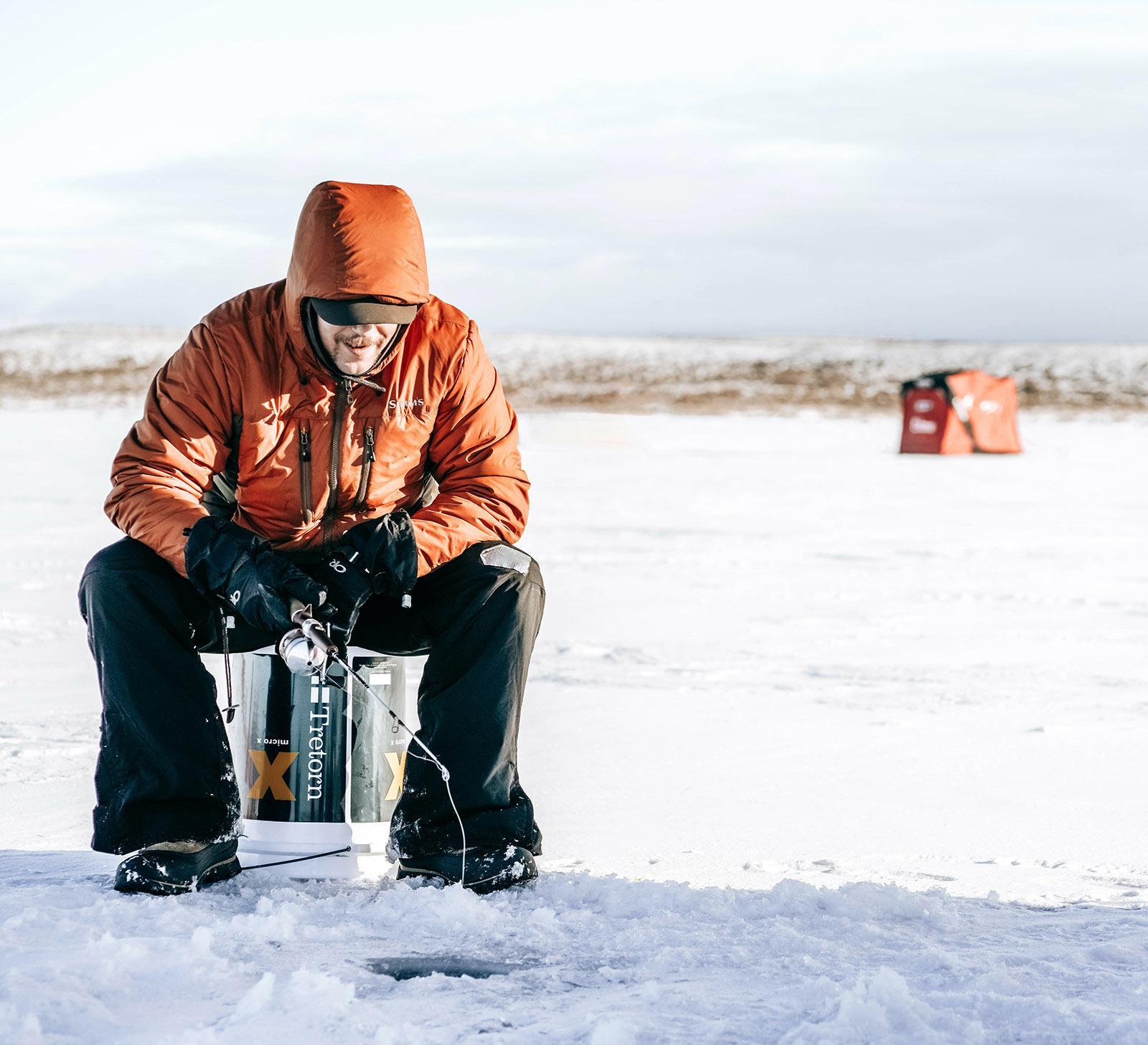 Best times and places to fish in Tahquamenon Country
Inland lakes safely freeze as early as December and stay frozen until March or April. Lake Superior rarely freezes to safe depths, but inlet bays off Whitefish Bay may freeze in February. Follow the safety tips below before ever going on the ice. Local anglers recommend wetting your line just after sunrise and a few hours before sunset to increase your chances of making a catch.
Top fishing spots from nearly 100 choices
Emerson Bay | Whitefish Bay | Paradise
This bay on Lake Superior's Whitefish Bay doesn't always freeze by February, but when it does hard-water anglers love reeling in whitefish from its chilly waters.
Manistique Lakes Complex | Curtis
Three of the complex's six lakes are popular for their world-class ice fishing. They are located approximately a half-hour southwest of Newberry. Auger in and drop a line at Big Manistique Lake for northern pike, yellow perch and walleye; North Manistique Lake for walleye, northern pike, yellow perch and crappie; and South Manistique Lake for walleye, northern pike and yellow perch.
Muskallonge Lake
This 780-acre lake is 28 miles northwest of Newberry in Muskallonge Lake State Park. Anglers wet their lines for northern pike and yellow perch.
Perch Lake
Fish this 125-acre lake 23.5 miles north of Newberry for northern pike and yellow perch.
Pike Lake
This nearly 300-acre lake in McMillan Township is 41 minutes west of Paradise. It has hungry walleye and northern pike waiting for you to drop a line.
What to wear and bring on the ice
Dress for the ice — warm socks and thick boots are a must. Wear layers. Your base should be lightweight, breathable materials that wick away sweat and water. The mid-layer needs to be made of breathable wool or micro-down that will insulate and trap warmth. Your outer layer should be bibs and a jacket that are waterproof and keep warmth from escaping. The jacket cuffs need to seal around your wrists and waist.

Choose gloves that are waterproof and made of fleece-lined neoprene. Styles with slit fingers for the thumb and index finger make it easier when baiting hooks, tying hooks, etc. It's advisable to bring a second, larger pair of waterproof gloves or mittens that you can fit over your first pair to ensure your hands don't get too cold.

Bring a thermos with hot coffee, chocolate, or tea, plus snacks.

An empty bucket, stool, or lawn chair to sit on.

An ice spud or auger to cut an eight to 10-inch hole

Jigging rod(s), tip-up(s), live bait and/or artificial lures

Heater

Fish sonar or finder

Carry your ID and Michigan fishing license in a waterproof bag
Where to get ice fishing equipment, bait and local advice
For equipment, bait and local fishing advice near the Manistique Lakes Complex, visit J's Ice Fishing Shanty Rental and Mick's Bait Shop. In Newberry, visit Duke's Sport Shop and in McMillan, Helmer House Mercantile.
Go where the fish are biting with help from a local fishing guide
Yooper Outdoor #906 is Tahquamenon Country's premier outfitter for fishing through the ice on Lake Superior or on area inland lakes. You'll reel in walleyes, bluegills, perch, crappies, pikes, ciscos and bass when the biting is best. Your guide will provide you with everything you need to catch fish.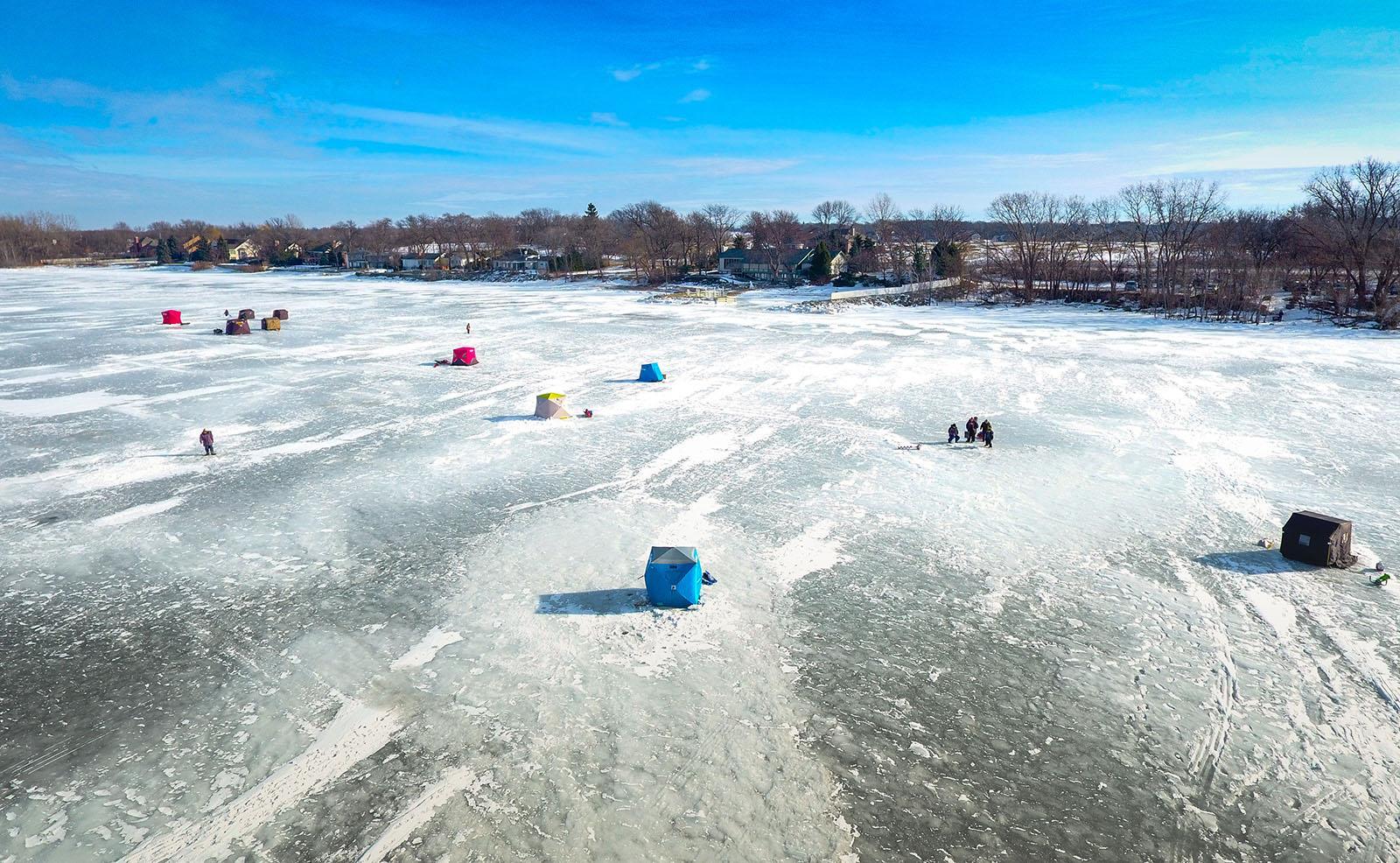 Michigan permanent ice shanty regulations
Fishing inside a hard shack or portable shanty not only shelters you from winter weather but gives you a place to store equipment, set up a heater, cook stove and other supplies. It also makes it easier to learn fish feeding habits and patterns. Most anglers in Tahquamenon Country use portable shanties. However, here are Michigan DNR's requirements for hard shanties:
A person placing a permanent fishing shanty on the ice must write on ALL SIDES of the shanty (not on an affixed board or other material) the owner's name and address OR driver's license number OR DNR sportcard number. The alphanumeric letters must be legible and at least two inches in height.

Shanties must be removed by midnight on March 31.

You must remove an ice shanty, regardless of the date, if ice conditions are unsafe.
Ice safety always comes first
Never fish alone. Always tell someone on land where you are going and when you expect to return.

Carry your cell phone, a lifejacket, flashlight or battery-powered lantern, ice picks and extra batteries to your fishing spot.

NO ICE IS 100% SAFE. Constantly check the ice thickness every 150 feet with an ice spud and tape measurer. Clear ice needs to be a minimum of four to five inches thick (eight to 10 inches if the ice is white or snow-covered). If you plan to drive a snowmobile or ATV onto the ice, it must be five to seven inches thick.

On any lake, avoid river or creek mouths. The ice can be unstable.

STAY OFF thin, slushy, dark, or discolored ice.
Plan your ice fishing trip today!
Are you ready for some of the best winter fishing yet? Start planning your ice fishing trip now! Visit our best fishing in Michigan and lodgings pages for more information.