Thousands of people travel through Michigan's Upper Peninsula to visit Tahquamenon Falls each year, and most of them are here to witness the Upper Falls gush over 50,000 gallons of water each second. Paired with a pristine wilderness background and gorgeous annual fall color, we can't blame them! But, there is something special — and different — about a visit to the Tahquamenon Falls in the winter. The crowds reduce in size, but the Upper Falls still remain active over a 200-foot crest, cascading 48 feet below. And that's just the cherry on top of a winter wonderland of activities waiting for you. Here's everything you need to know about visiting Tahquamenon Falls this winter.
Is Tahquamenon Falls State Park open in the winter?
The park is open year round! The Upper Falls parking lot is always plowed and the Tahquamenon Falls Brewery & Pub is open to grab a bite and souvenir. When visiting the Lower Falls, you will have to hike about a mile one way from the lot to the falls as the lower lot is blocked off for the winter.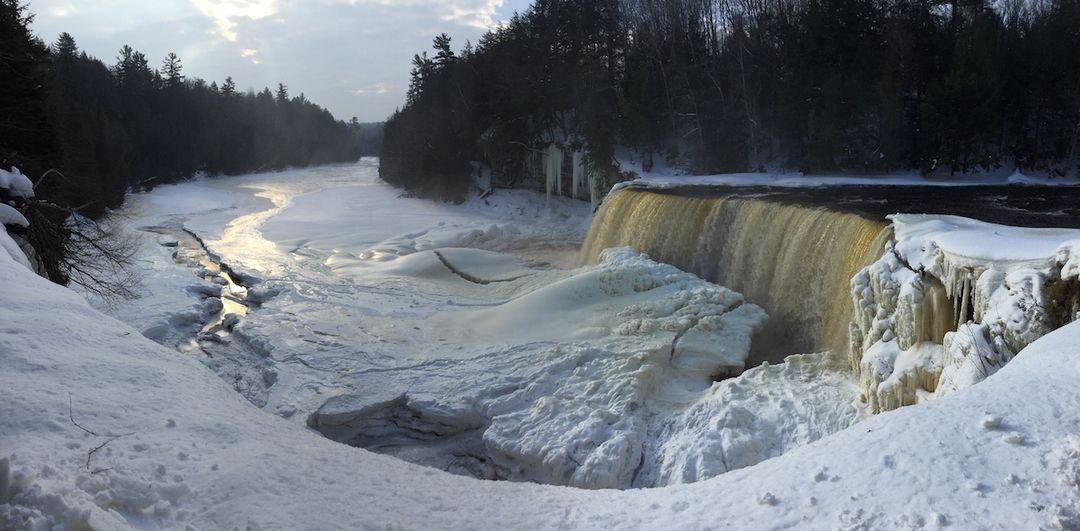 Does Tahquamenon Falls freeze in the winter?
According to the Tahquamenon Falls State Park Facebook page, the Upper Falls usually has open water. You may see ice formations building up the river and toward the waterfall, and it's possible during very cold periods that that ice may cover most of the waterfall, but it rarely freezes entirely. So it's highly likely that you will get to see this ferocious waterfall at work!
However, the water in the Lower Falls is mostly frozen by January. There is still a stream of water that trickles through, which you can see from the hiking trails.
Tahquamenon Falls winter activities
Despite snow covering the trails, we'd argue that when the winter weather slows the rest of the world down, it brings Tahquamenon Falls State Park to life! With 13 inland lakes, 24 miles of Tahquamenon River and 35 miles of trails for snowmobiling, snowshoeing and cross-country skiing, this 20,000-acre natural area is begging you to put on your boots and explore.
You can count on an annual average of 106 inches of snow in the Tahquamenon area with temperatures that are rarely bitter cold — perfect for winter sports.
Snowmobiling
Bring your sled to the Tahquamenon Scenic Byway running between Newberry and Paradise. There are plenty of places to stop and stay the night or just grab a bite to eat before putting in more mileage. Trail 8 is also a favorite for snowmobilers, which takes you about 2 miles south of Crisp Point Lighthouse on County Road 412. If you're lucky, you'll find that the trail to the lighthouse and Lake Superior Shoreline has been groomed! Check out the Chippewa County trail report for more details before your trip.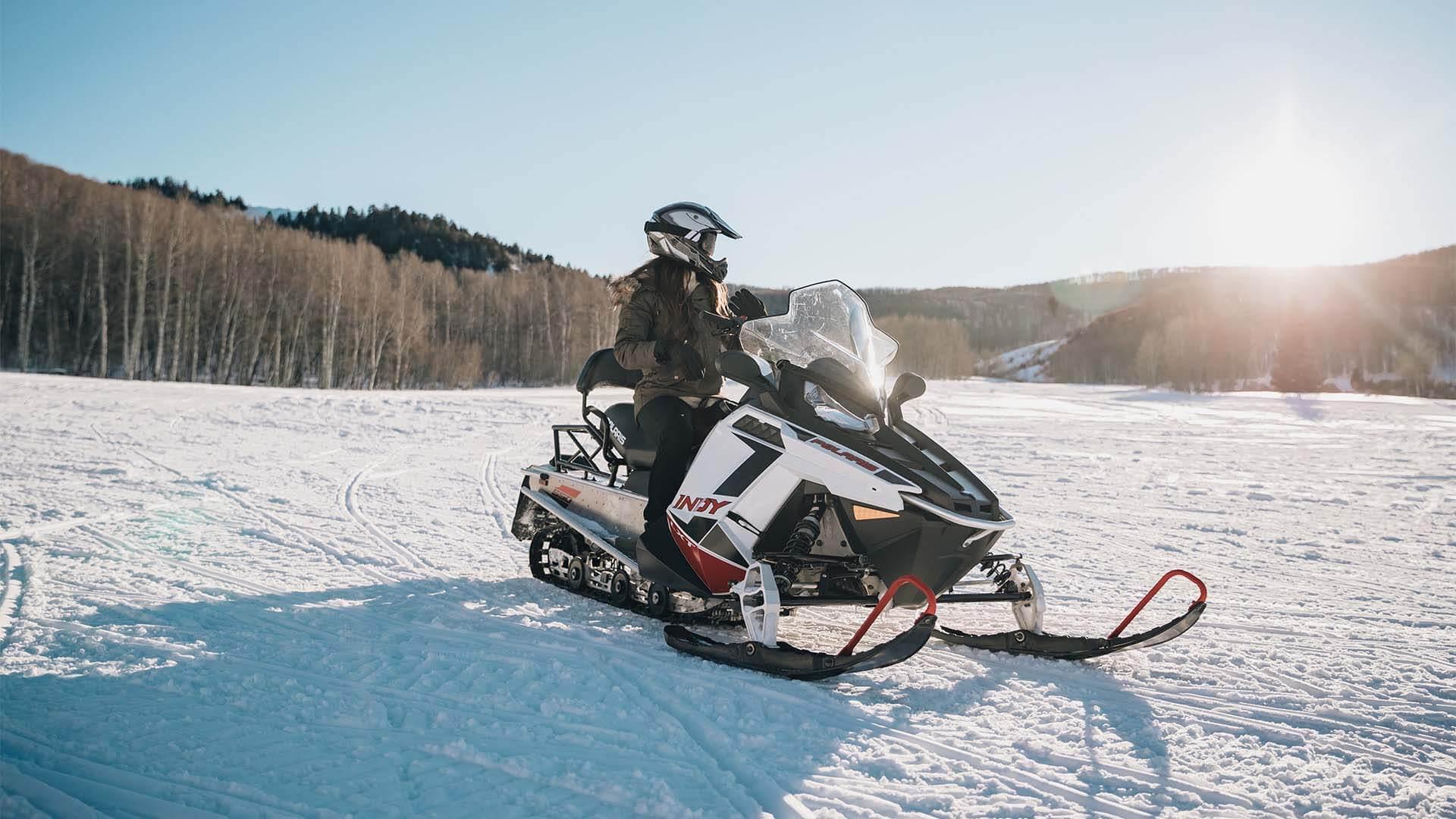 Snowshoeing and cross-country skiing
Each winter, the park hosts free guided snowshoe hikes throughout the state park, and some are even lantern lit under a starry, winter sky. You'll learn tips and tricks for snowshoeing and get an insider look at the wintery park. A limited number of snowshoes are available on a first-come, first-served basis. But don't wait for these events if you are itching to adventure out on your own!

For cross-country skiing, most of the groomed trails will be around the Upper Falls. They are well marked, too. We do recommend having necessities like flashlights, a charged cell phone, layers, water, a compass, a friend to join and snacks, for starters. Explore any of these trails on snowshoes or skis!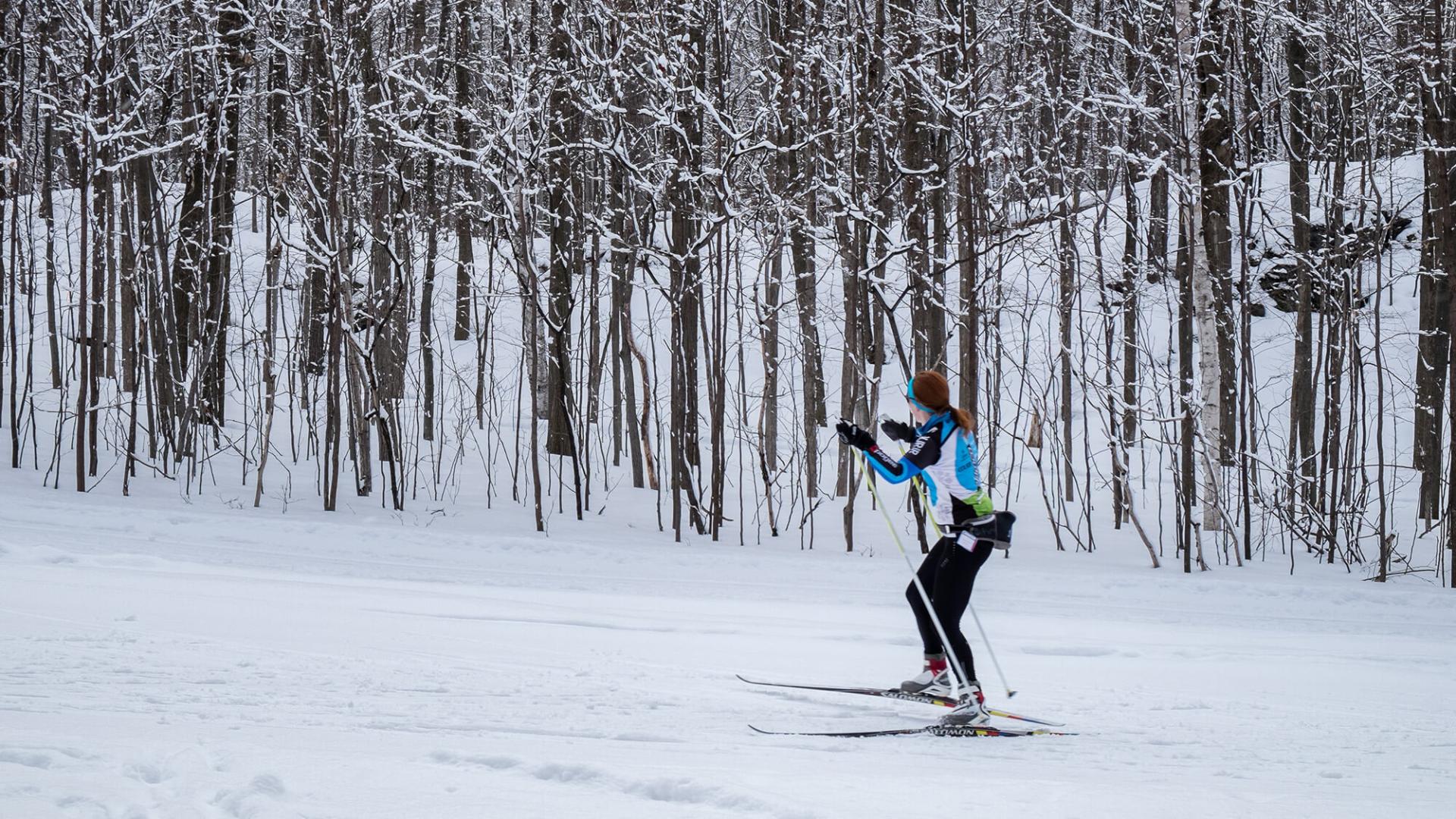 Tahquamenon Falls State Park handicap accessibility
Any mobility-challenged visitors can rent a track chair to explore the park. These electric, off-road chairs are available on a first-come, first-reserved basis at no cost and can drive through snow, sand and up to 8 inches of water. To reserve a track chair, contact @TQFalls through Facebook Messenger or call the park office at (906) 492-3415.
Plan your visit and book your stay
Sound fun? Come explore the wonderland for yourself. Book your stay and start planning your winter activities NOW before the snow melts. Pack warm!